TUTORIAL - Es hora de reemplazar Messenger por Skype
TUTORIAL - Es hora de reemplazar Messenger por Skype
Así se encabeza el mail que me envió la gente de Microsoft.
MSN Messenger o Windows Live Messenger (o simplemente "messenger" para los amigos) dejará de existir en el primer trimestre de 2013 para fusionarse en Skype.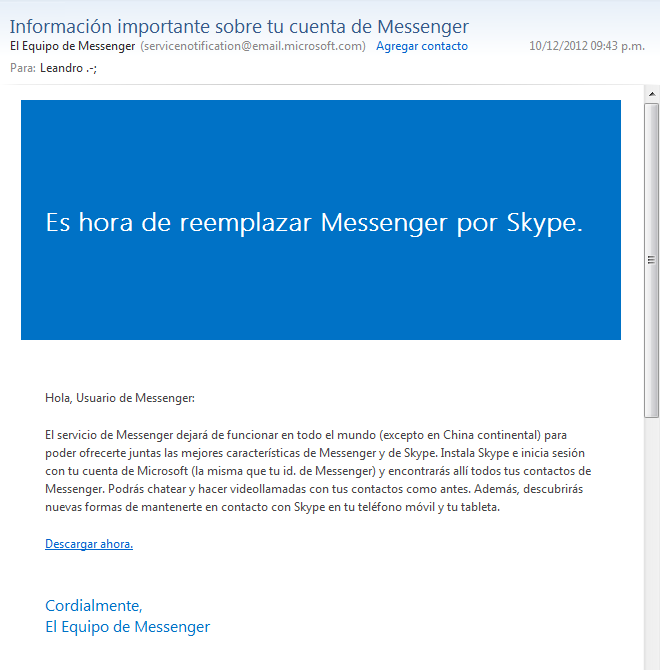 Después de haber compartido conversaciones con amigos por más de 10 años, dejamos la nostalgia de lado y nos disponemos a migrar a la nueva plataforma. Hay que entender que esto es sólo un cambio de software y de interface visual, ya que nuestra cuenta @hotmail.com / @hotmail.com.ar / @live.com / @msn.com / etc, seguirá existiendo en los servidores de Microsoft y no vamos a perder ni los correos electrónicos ni tampoco nuestros contactos. Además, muchos de nosotros ya veníamos usando paralelamente Skype para hacer videoconferencias o videollamadas que por cierto son de muchísima mejor calidad que lo que nos ofrecía MSN, además de incorporar toda la tecnología VoIP.
Es muy importante descargar la última versión de Skype (versión 6 o superior) para disfrutar de todas las prestaciones y compatibilidades con nuestras cuentas de Windows Live Messenger.
Para ello debemos ir a la página oficial de Skype, y seleccionar la opción Descargar Skype ó desplegar el menú "Disfruta de Skype" en la parte superior.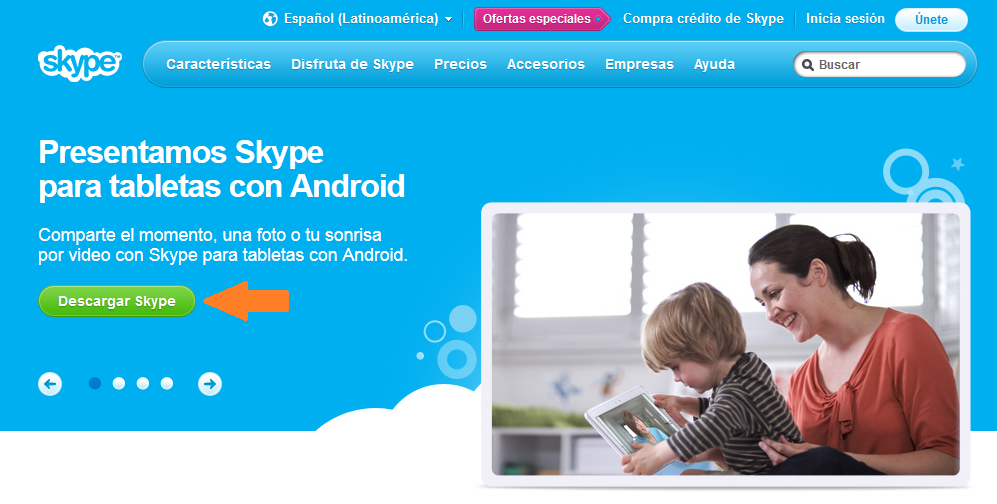 Seleccionamos la versión adecuada al dispositivo que estemos utilizando (principalmente PC o teléfono celular/tablet)
Para bajar el instalador hacemos clic en Descargar Skype GRATIS.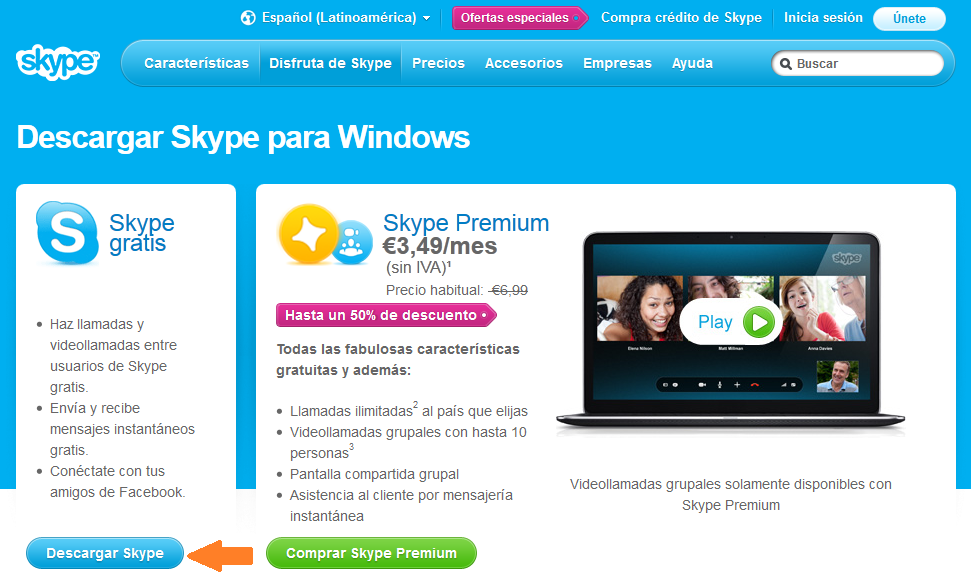 Una vez descargado se verá algo así.
Iniciamos el instalador y seguimos el asistente hasta que finalice.
Si hicimos las cosas bien y descargamos la versión 6 o superior, vamos a encontrarnos con la pantalla que nos invita a iniciar sesión con "una cuenta de Microsoft"

Luego de hacer clic pasamos a otra pantalla que ya nos es conocida. En ella ingresamos los datos de nuestra cuenta de Microsoft (la que veníamos usando en Windows Live Messenger)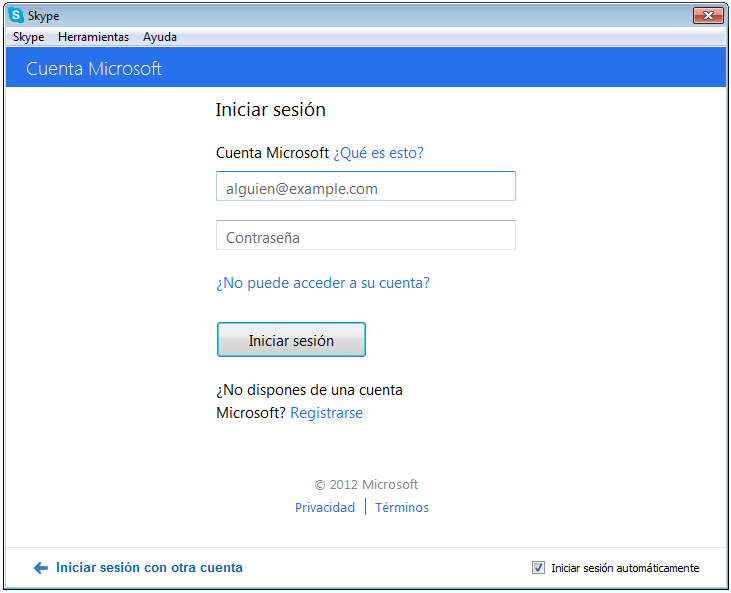 Una vez identificados, nos pregunta si somos usuarios nuevos o no de Skype (si teníamos cuenta en él o no). Esta opción es importante para que se asocien ambas cuentas y se fusionen en una sola los contactos que teníamos en ambas.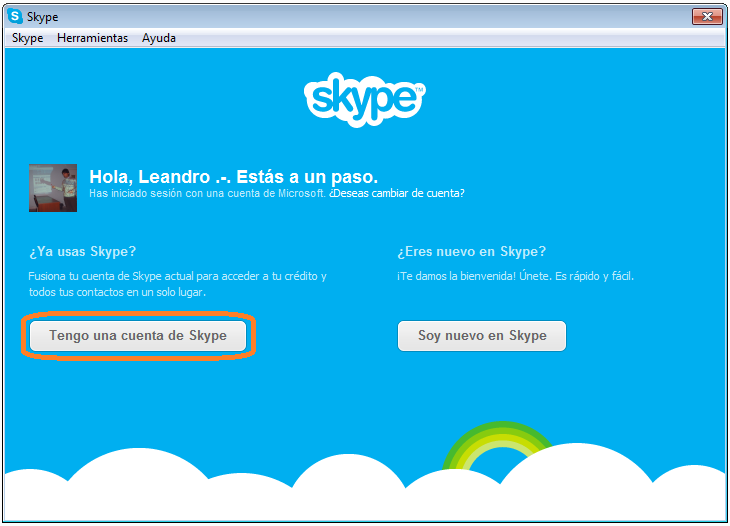 Como en mi caso ya tenía una cuenta en Skype, voy a elegir agrupar los contactos de ambas, validando mi nombre de usuario y contraseña.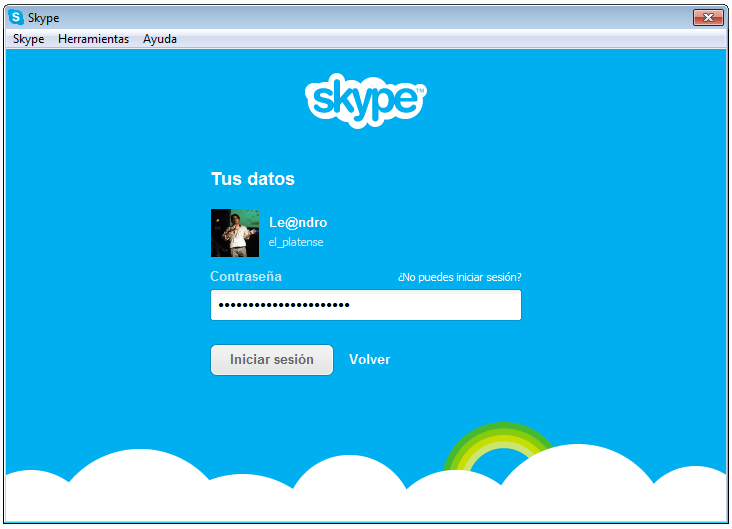 El último paso es confirmar la operación. Nos resume lo que estamos a punto de hacer, mostrando las fotos de ambas cuentas y un mensaje de confirmación.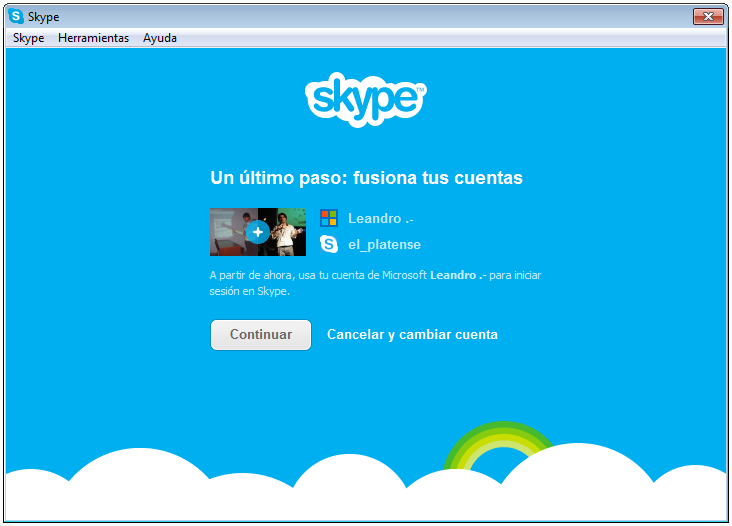 Al darle en continuar, ya vamos a estar disfrutando de nuestro nuevo programa con todos nuestros contactos y amigos pero con muchas más funcionalidades.
A acostumbrarse!

There are no comments yet. Be the first!