29.09.2010 (3356 Days Ago)
Noticias
Los Picapiedras cumplen 50 años
Los Picapiedras cumplen 50 años
Hoy 30 de Septiembre de 2010, Google publica otro de sus logos personalizados, y esta vez referente al 50º aniversario de Los Picapiedras.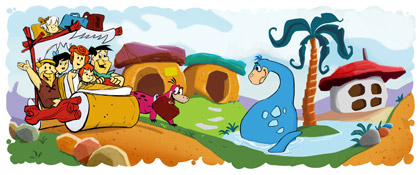 El 30 de septiembre de 1960, la cadena estadounidense ABC emitía por primera vez The Flingstones, conocidos en los países hispanohablantes como "Los Picapiedras". La serie animada se transmitió hasta el 1ro de abril de 1966 con un total de 166 episodios. Actualmente, en su cumpleaños número 50, los dibujitos de Hanna Barbera se puede ver a través del Canal de Cable Cartoon Network.
Este jueves 30 de septiembre, Los Picapiedras cumplen 50 años desde su primera aparición al aire de la televisión de Estados Unidos.
Los Picapiedras, si bien son un dibujo animado infantil, la historia de Hanna-Barbera trataba temáticas propias para un público adulto, como la maternidad, las relaciones complejas entre suegros y yernos, el consumismo, la infertilidad y temas laborales.
Los principales personajes de la serie son Pedro Picapiedra, Vilma Picapiedra, Pebbles Picapiedra, Dino, Pablo Marmol, Bety Marmol y Bamm-Bamm Marmol, y narra la historia de la vida cotidiana en la prehistoria.
There are no comments yet. Be the first!